Een handtas voor elke gelegenheid
Handtassen zijn zowel een praktisch attribuut als een uitdrukking van stijl en persoonlijkheid.
De inhoud is zeer persoonlijk en intiem. Daarom zijn ze voor mij een onuitputtelijke bron van creativiteit.
Ontdek hier de inhoud van enkele kasten vol glazen handtassen en geldbeugels in alle stijlen, kleuren en technieken.
A handbag for every occasion
The use of handbags is in trend since ancient times and has roots in art, design and fashion. As well as being practical items, handbags are also the keepsakes of secrets and dreams. They are extremely personal inside and out. Women use them as a luxury item to express their personality, so we can say that a handbag is much more than a bag that contains objects. The objects inside are also a fantasy world on their own. Everything a girl or a woman keeps in her purse is revealing her intimacy. Perfume, lipstick or other make-up are as necessary as keys or money. These object are mostly well chosen and tell a lot about the story of the owner. Handbags have been inspirations to many writers, designers and artists in general, not only for their many forms but certainly for the secrecy of their content. This is why glass handbags can be so interesting, they are transparent or suggest transparency. The eye of the observer will take a closer look and keep his attention until he thinks he can see what's inside. Just like the curiosity of a child looking in her mother's handbag...hoping to find treasures.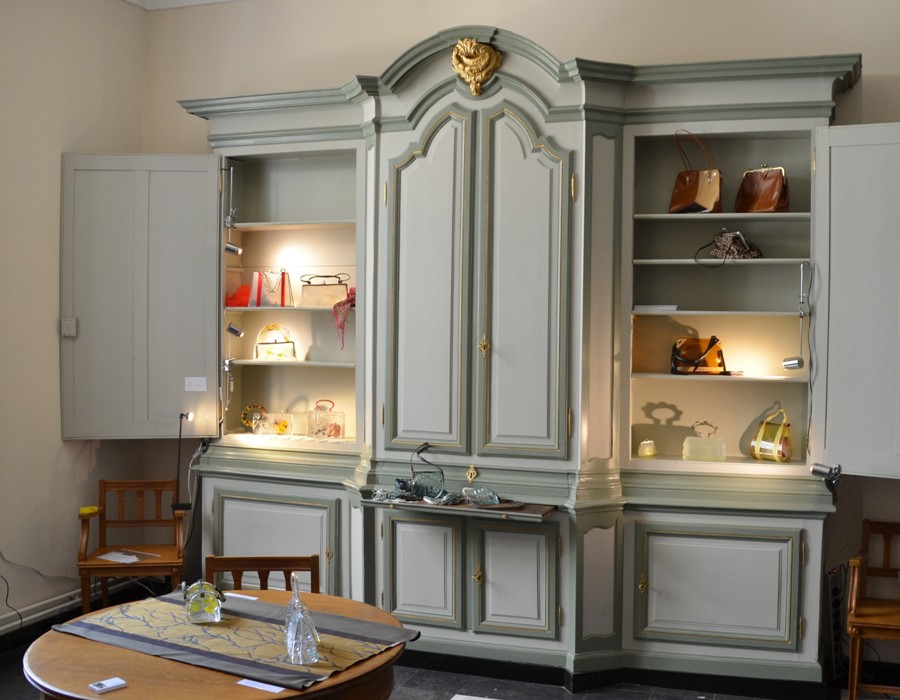 Opstelling in het Diocesaal parochiaal centrum in Mechelen tijdens de afstudeerexpo in 2015
Sakura
Handtas "Tiffany"
Handbag "Toddler"
Voskos Slim
Handtas "Enrico"
geldbeugel / purse
Handtas "Adele"
Handtas "Saluto"
Handtas "Caro"
Handtas "Blue Moon"
Handtas "April"
naar Louis Vuitton Speedy
Handtas "Cornus"
Handtas 'Simonne'
Handtas 'Broderie'
Handtassen "Peili"
Voor 65e verjaardag van Chanel 2.55
Handtas "Fleur"
Handtas "Broderie"
Memory Lane
Opstelling in het Diocesaal parochiaal centrum in Mechelen tijdens de afstudeerexpo in 2015