English&nbsp česky Nederlands Norsk
Searching Snow White's Apple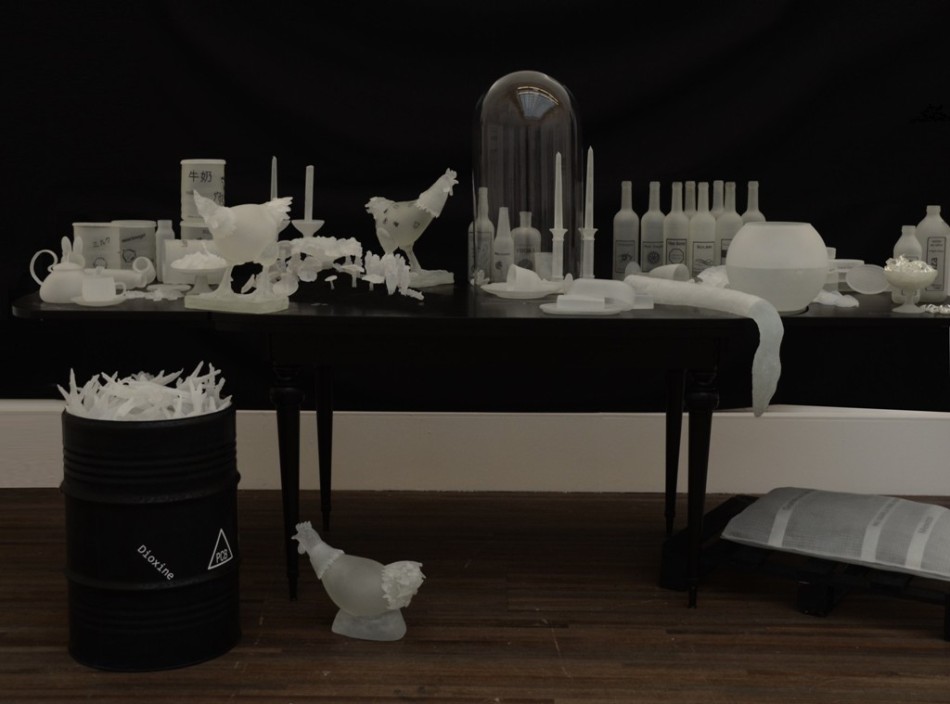 This work was nominated for the Stanislav Libensky Award 2018.
Past exhibitions:
Oct.-Nov. 2019 in S12 Galleri og Verksted, Bergen, Norway: "Young and loving 2019".
Oct. 2019 in Glasrijk Tubbergen, The Netherlands: "Mirror,mirror ... glazen sprookjes"
Sept.-Nov. 2018: in Dox - Centre for Contemporary Art in Prague (CZ):
"The Stanislav Libensky Award 2018"
nov. 2018: Glas en keramiekbeurs in Leerdam (NL)
June 2018: Open doors of IKA (Instituut voor kunst en ambacht) in Mechelen (B).
May 2018: Graduation Exhibition of art in glass in Cultureel Centrum in Mechelen (B).
Statement
Contaminated food brought for a lot of human suffering and damage, with economic consequences, health problems or even deadly consequences.
The causes are diverse and range from tragic misunderstandings and clearances of nature to intentional deception.
I selected a series of incidents all over the world and represented them in sandblasted glass objects on a table.
The matte pale hue reflects the outrage and also gives rest to the eye of the beholder, so that he can approach this versatile topic easier.
The installation symbolizes the influence of man on the life as well as its powerlessness and mortality.

Fipronil crisis: Chicken with blood lices

Chicken legs with PCB

Fraud with wine

Bradford Sweets with Arsenic

Fraud with alcohol